Successful communities are born from quality shared spaces. As city planning turns to creating more community spaces, one answer has already been in use for 50 years.
In the late 1960's, city planners in the Netherlands were rethinking urban development. Dutchman Hans Monderman had a novel idea: create a space where people and bicycles can coexist with cars. This was the beginning of woonerfs, or shared streets, an urban design tool that soon spread across Europe, enjoying particular success in Scandinavia and Germany.
What makes a street?
The word woonerf means "living street" in Dutch, referring to the community-centered design of these thoroughfares. They're designed to transform streets from car-centric places into spaces where all transportation is valued equally, a valuation reflected in the street design. Woonerfs permit less space for cars, slowing traffic and allowing bicyclists and pedestrians the space and safety that regular streets often do not.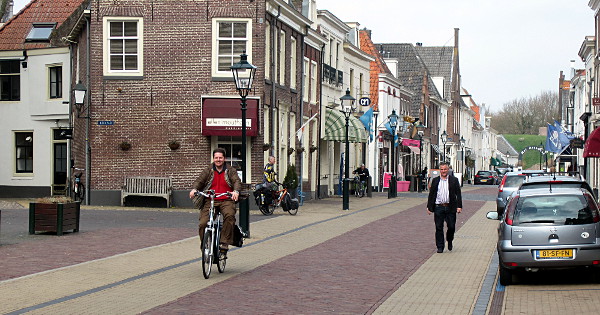 Although shared streets often vary in appearance and design features, they share a few common characteristics. Almost all remove visible traffic signs, lane markers and curbs. Pavement is laid on an even grade, signaling that cars are entering a pedestrian space and must show respect. Presented with a more meandering path, drivers are inclined to use caution and slow down. Curves added to these roads encourage slower speeds.
When there is less marking and delineation on a road, drivers must rely on eye contact and face-to-face interaction to navigate, making streets safer for both pedestrians and bicyclists. In the Netherlands, streets saw 40 percent fewer collisions after becoming woonerfs.
Beyond road logistics, shared streets create communal spaces. Seating and shade often give pedestrians a place to enjoy the area, and landscaping gives the street a greener, less urban feeling. Finally, artwork provides a sense of creativity and individuality. Art can range from permanent gateway installations signaling the entryway onto the shared street to street art and murals. Artwork is often created by local artists and reflects the surrounding community.
The Midtown Community Works Partnership and Midtown Greenway Coalition are currently working to create a temporary shared street demonstration on 29th Street South, alongside the Midtown Greenway.
This will be the third shared street in the Twin Cities.
Planning for the project has recently begun, with multilingual community meetings taking place at various locations in the Midtown Phillips neighborhood. These meetings are being held to gather ideas from the community. The design of the shared street will be determined by the community itself, including features that would be widely agreed upon and helpful to the community.
Project architect Ward Joyce attended the first planning meeting. Read more here.
Shared streets in the United States
This urban development trend has since spread beyond Europe and into North America. Shared streets can be found from Montreal, Quebec, to Montpelier, Vermont, to Seattle, Washington. The United States now has over 400 cities that have or are planning some type of shared street.
Two such shared streets are found in Minneapolis. The first is located near the Mill City Quarter housing development adjacent to South 2nd Street. It fits the definition of a shared street more loosely, functioning as a public-private space that is gated at night. This area has been transformed into a curved, green space with seating, a big change from its previous life as a run-down parking lot next to old railway tracks.
The Mill City Quarter shared street features business parking during the day, with public paid parking available on weekends and evenings. Along with seating, the shared street displays a history of the rail district within which it resides. It will eventually serve as a pathway to trails and home to a visitor center along the Mississippi River that is scheduled to open in 2019.
Minneapolis' second shared street is located on West 29th Street along a two block stretch from Lyndale Avenue to Bryant Avenue. Construction was completed in late 2016, and the grand opening will come in mid-2017, following landscaping and installation of artwork.